About Us
For more than 20 years people from all over the world have partied it up at Nipper's.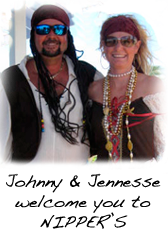 "It's what we've built our reputation on", says the owners Johnny and Jeunesse. "That, and our great food, strong drinks, stunning views and incredible people. If you've been, you agree. If you've never been, you need to experience it."
We are open 364 days a year, from 7 a.m. until the last customer can dance no more. Not a big partier? There's plenty of space to chill at Nipper's, too. Do you want to float in the pool? We have two to choose from. Do you dare to try one of our infamous Nipper Juice drinks? It's hard to stop after just one, and therein lays the danger. The day after you might wish you did.
Feel the Bahamian breeze on your face as you enjoy the view to miles of white-sand beach in each direction.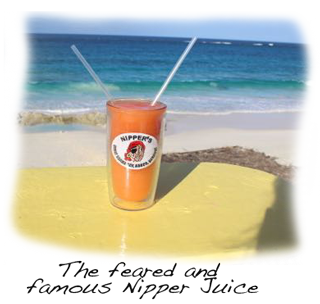 Our iPod is always going with lists of music people love. From Barefoot Man and Jimmy Buffett to Bob Marley. You'll recognize the popular Caribbean music played at our bar during the day. And at night, we have plenty of dance tunes to get you moving to the beat!
So stake out your spot, find your groove and settle in to enjoy your day. And watch out for those famous (and feared) Nipper Juice Drinks.